Regular price
Sale price
$38 USD
Unit price
per
Sale
Sold out
The spicy citrus scent of wild sumac lingers in its vibrant fall color and the glow of burning embers from the campfire dazzles on a dark winter night. A silky smooth accord highlighted with smoky vanilla, roasted chestnuts, tobacco leaf and guaiac wood.
12 oz / 226 g / 50 + hour burn time.
Our 100% plant based wax is made from sustainably sourced coconuts & USA grown soybeans with zero petroleum (paraffin) or palm oil.

We only use fine fragrances free from phthalates, mutagens, carcinogens, parabens, acute, reproductive, or organ toxins.

Our wooden wicks are made from sustainably sourced from FSC Certified Wood in the USA.
Vegan friendly & never tested on animals.

Hand-poured in small batches with care and attention in Chicago, IL.
View full details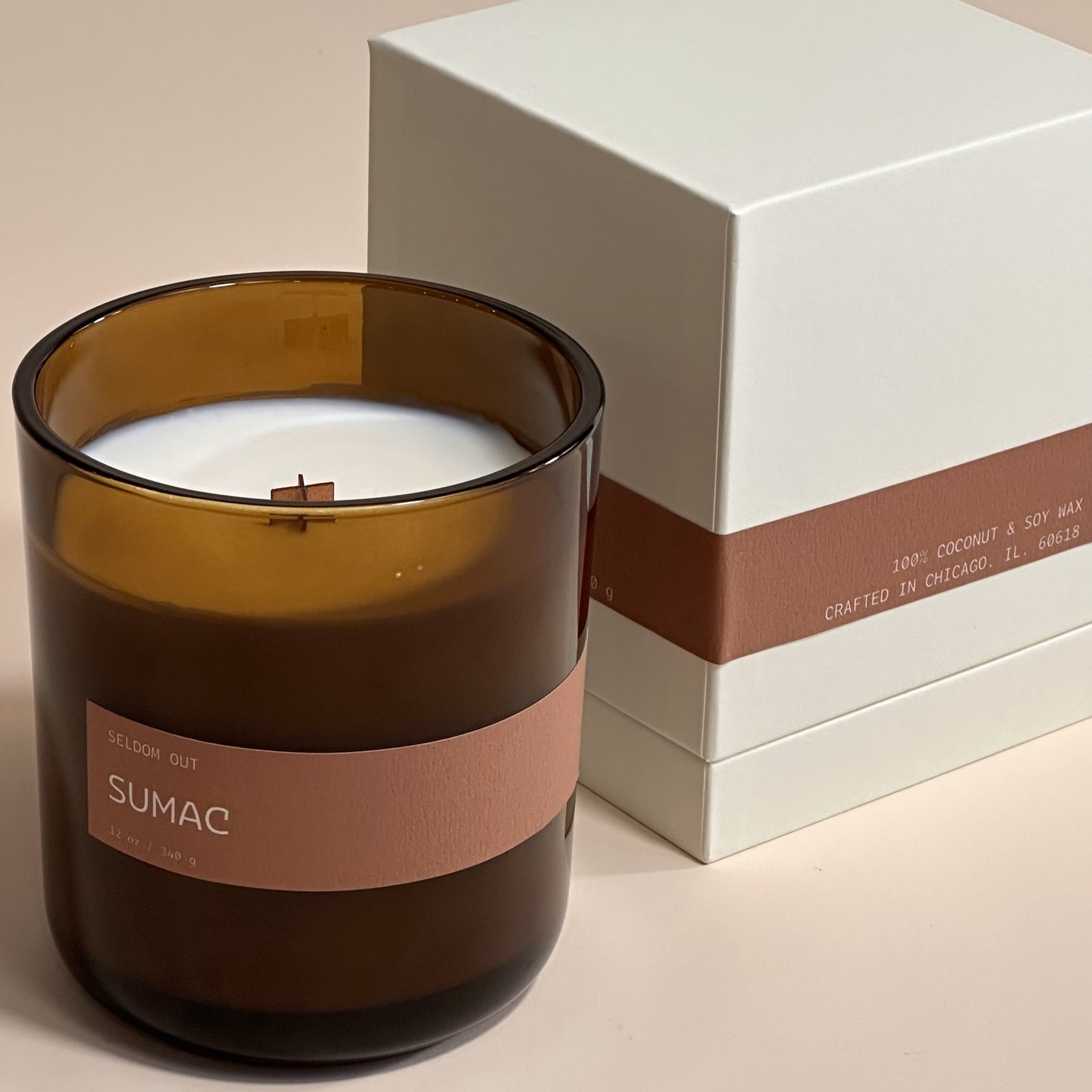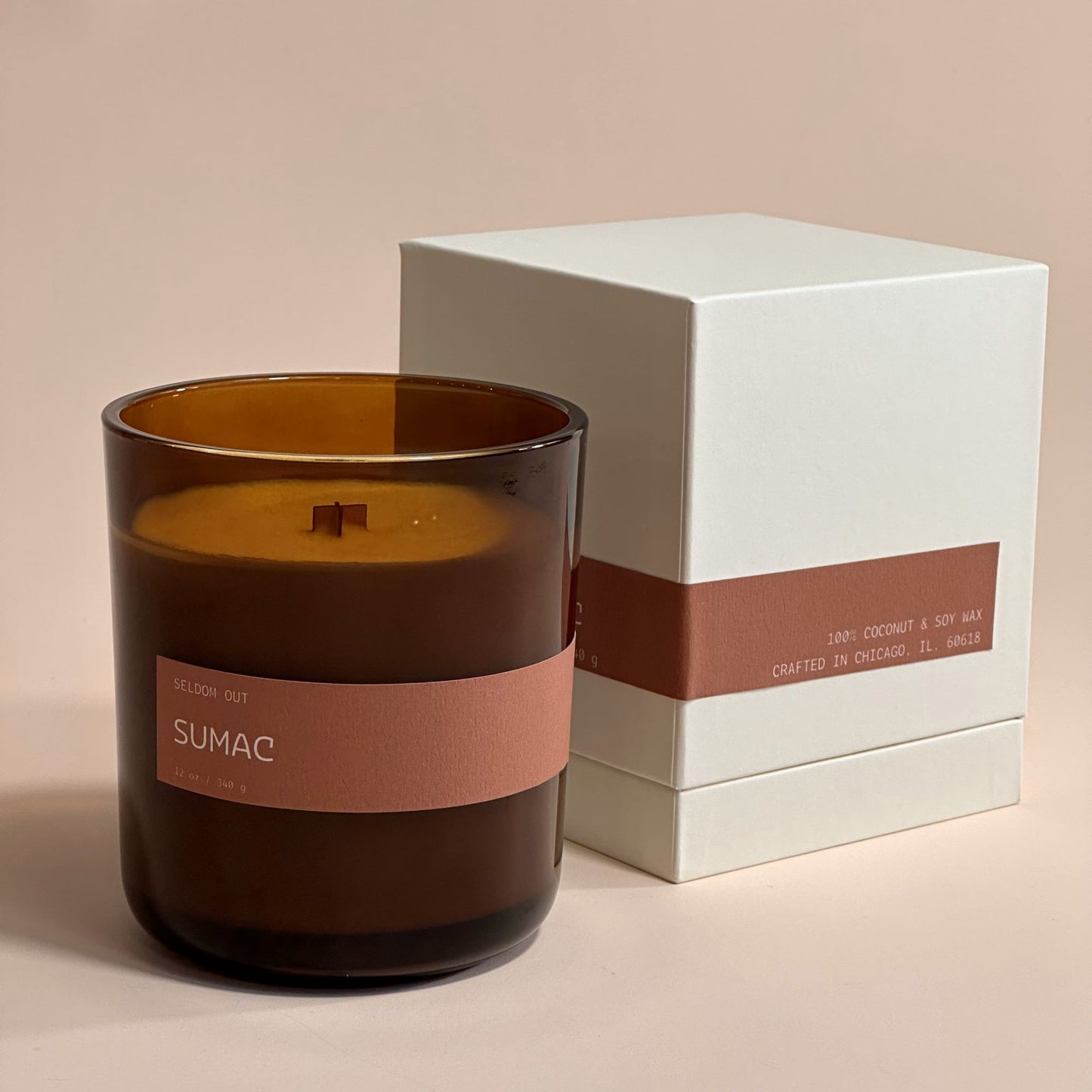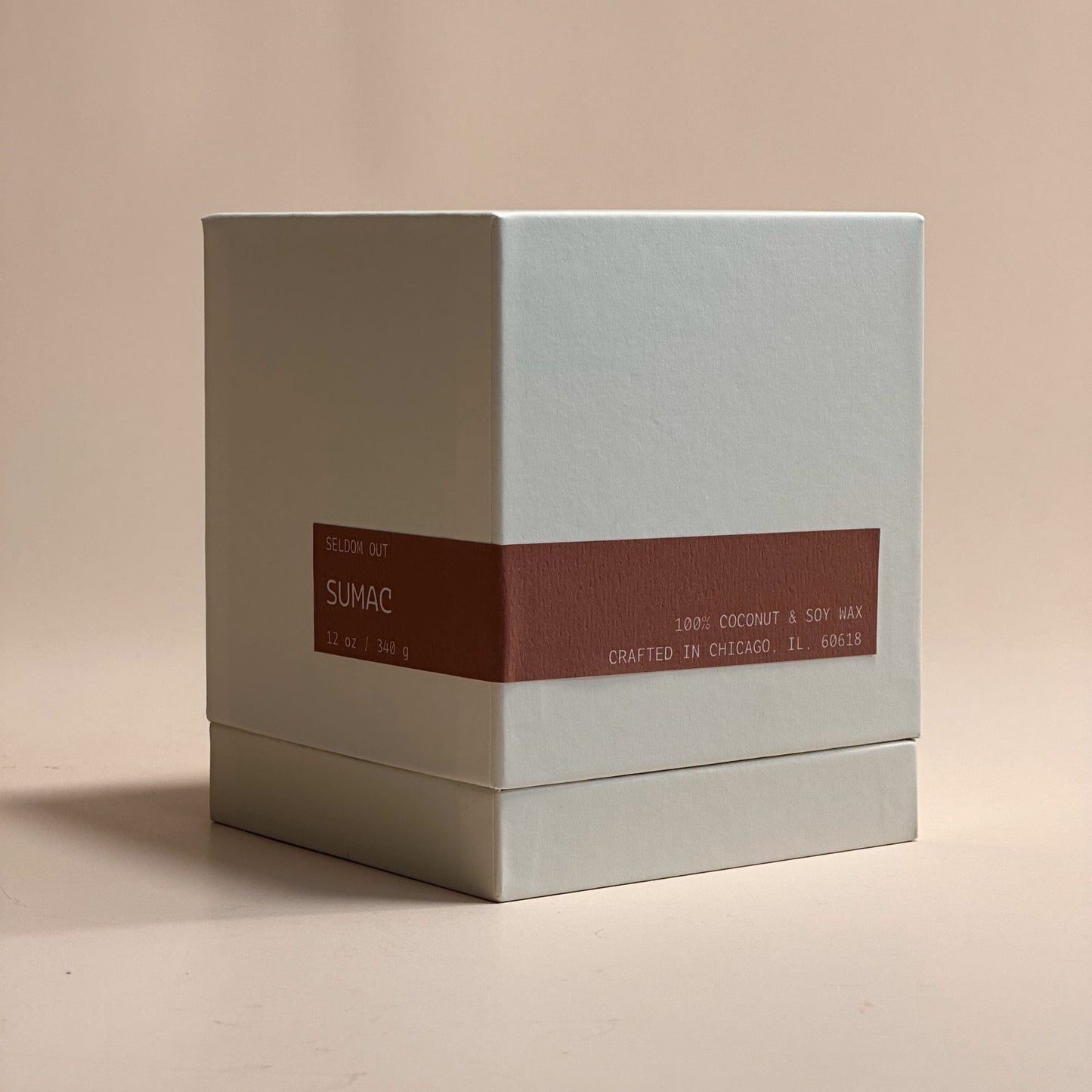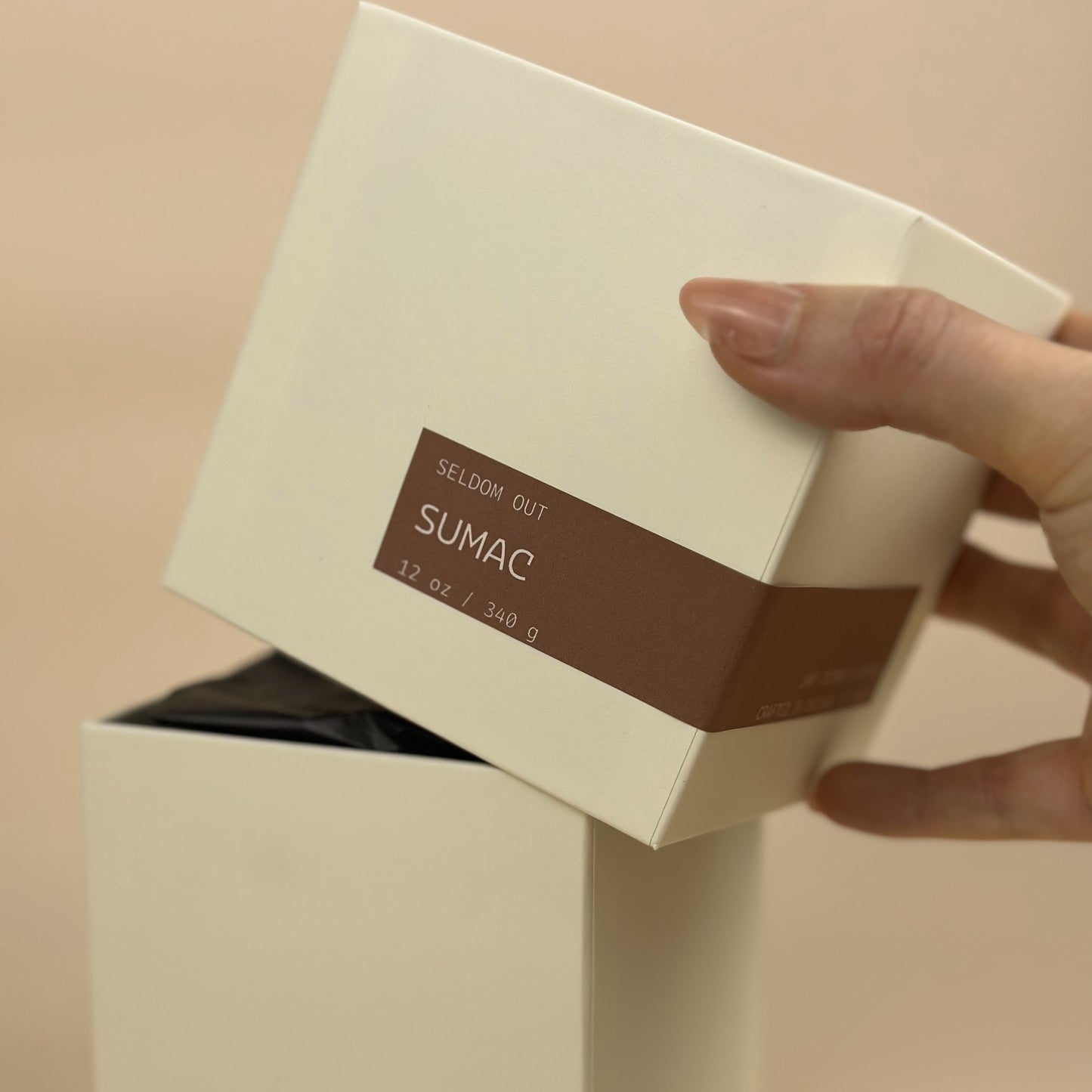 Collapsible content
Fragrance Notes

Top: Elemi, Tobacco Leaf, Cacao
Heart: Roasted Chestnut, Wild Sumac
Base: Smokey Vanilla, Birch, Guaiacwood

Crafted with a sustainable combination of synthetic & natural fine fragrance oils infused with the essential oils of bulnesia sarmientoi wood oil, clove leaf oil, pogostemon cablin oil and india turpentine,
The Fragrance in Detail

Before Lighting:

An unexpected medley of spicy citrus notes from the wild sumac and elemi accented with rich, the smokey scent of campfire embers and smooth vanilla and cacao.

After Lighting:

This fragrance starts to fill a room within 30 minutes. You'll begin to smell the sweet earthy notes from the tobacco leaf and the warm caramel of roasted chestnuts. The guaiac wood lends a balsamic, woody honey-sweet and slightly smoky scent.

The scent is warm and cozy but elevated.

After Extinguishing:

The scent of sweet smoky vanilla and campfire will linger a little while.
Fragrance Strength

Your home, but better...

We purposely design our candle fragrances to enhance your living space and not over power it.

Scent strength is of course subjective but we hope to do our best in describing what you might expect from this fragrance.

We've determined this fragrance to be MODERATE/STRONG in our 12oz Vessel, and a little LIGHTER in our 8oz Vessel. It is ideal for those who like a gentle fragrance, with robust fragrance notes.

Our scent strength descriptions are based on our findings in a room comparable to an average size living room (15ft x 20ft or 300 sq feet) with good airflow, this scent will be stronger in smaller sized rooms, and lighter in larger rooms.

Placement is everything...

Since our candles are proudly free from harmful ingredients such as phthalates and non-sustainable ingredients such as paraffin which are used to make scent throw stronger & further. Placing your candle in a spot to take advantage of the natural airflow of your room will do this instead. Try experimenting with a few different* placements.

*be sure not to burn in a drafty areas, to ensure a soot free, controlled burn. 
Shipping & Returns

Processing

All orders are packaged and handed over to our shippers within 1-3 business days of receiving your order.

Shipping

We offer flat rate shipping (3-5 business days) for $5 and shipping is free for orders over $85. 

Flat Rate & Free Shipping applies to FULL PRICED items only. During SALE periods Shipping is calculated at the checkout.

Plant a Tree!

We've partnered with The Good API & the Eden Reforestation Projects to plant a tree whenever you place an order. 

Returns & Exchanges

We accept returns on items within 7 days of delivery. Return postage is at the expense of the purchaser. Shipping fees are non-returnable.

If you've any questions prior to purchasing feel free to reach out and we will be happy to help.

Of course if your product arrives damaged or defective please do reach out because we obviously really would like to fix that for you. Contact us!
Candle Safety

To prevent fire or serious injury we encourage you to use our candles safely and responsibly and follow these common sense usage guidelines:

NEVER:

leave a burning candle unattended
burn your candle in the reach of children or pets
burn your candle on or near anything that can catch fire such as but not limited to drapes, curtains, papers, books, bedding, blankets, decorations etc. 
burn your candle in the way of a draft, open window, fan etc
burn your candle for longer than 4 hours at a time
try to pick up candle that is burning or has recently been put out. Only move a candle once it has cooled
use our lid to extinguish your candle flame, our lids are not designed for this purpose

ALWAYS

trim the wick to 1/8 inch before use to prevent flaring or an overly large flame. You can simply pinch off the black part of the wick.
give your candle a nice clear, heat proof, uncluttered area to sit on
extinguish the flame if it becomes to high or is repeatedly flickering. Trim the wick, check for drafts
leave at least 4 inches between burning candles
place your candle on a stable, heat proof surface
keep your wax pool clear of matches, burned wick and other debris
be sure to extinguish your candle properly and carefully after use
wait until the flame is completely 

extinguished, the smoke has cleared and the candle is cool before replacing your lid

WARNING!

Container may become hot during use
Stop burning this candle when only 1/2 inch of wax remains in the vessel
Blow gently to extinguish to avoid splattering wax, especially if you have created a large wax pool
NOTES FROM OUR FOUNDER
Inspired by fall weekends, the first feeling of a chill in the air, blankets pulled tight around shoulders at golden hour and gatherings around the campfire. That feeling of being cozy and totally content.
We wanted to create something different from the typical pumpkin spice for fall. This fragrance has all of those qualities but it's sweet, smoky, spicy and cozy.
If this fragrance were a song it would be:
🎶...All in a Dream by LP Giobbi 🎶
TOBACCO LEAF
A blend of verdant, green notes with a slightly earthy undertone. Sweet-smelling, and hay-like.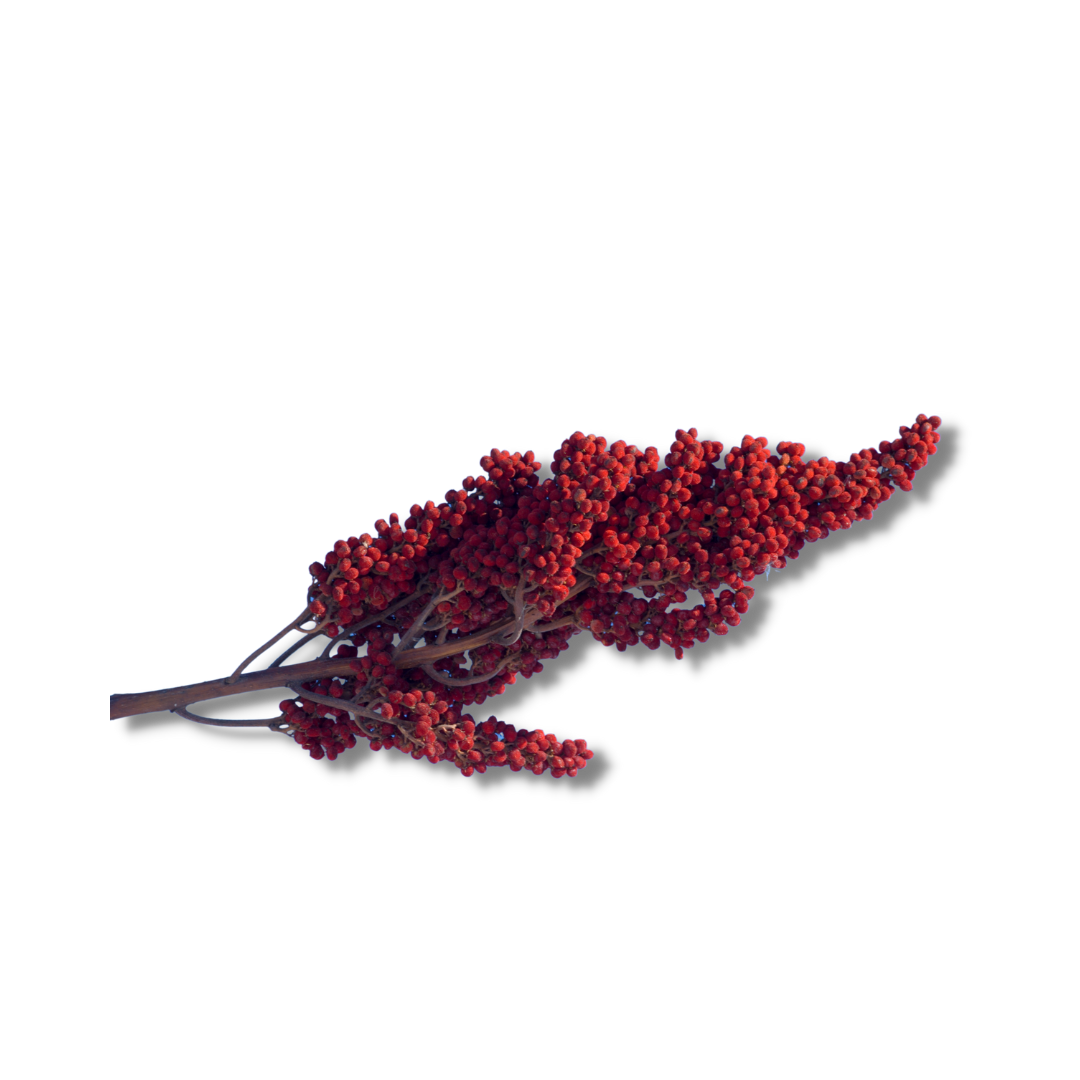 SUMAC
A harmonious dance of tartness and earthiness, akin to a zesty citrus - but with a wilderness twist.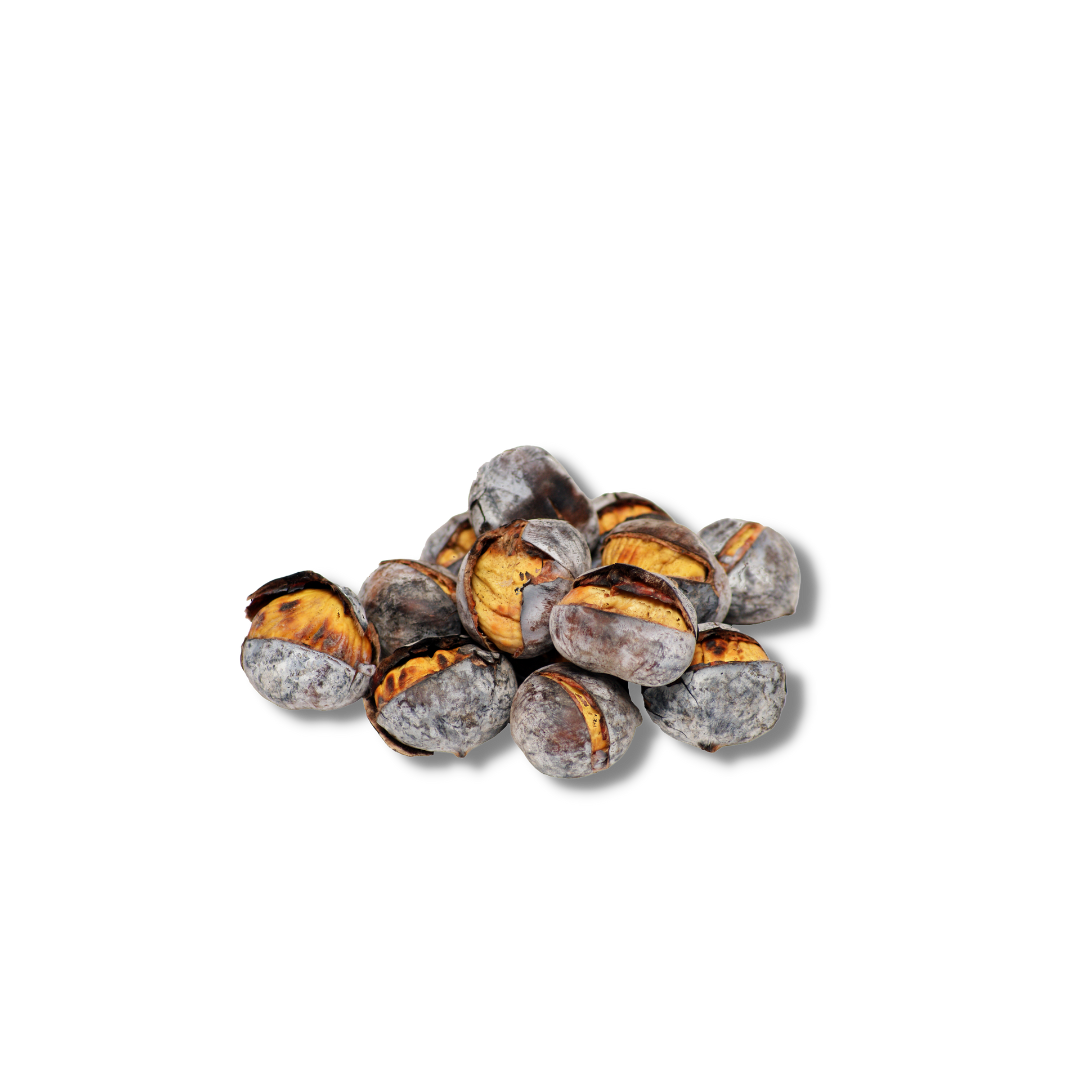 ROAST CHESTNUTS
An intricate tapestry of toasty and nutty notes, a blend of warm woodiness, smoke and a touch of caramelized sweetness.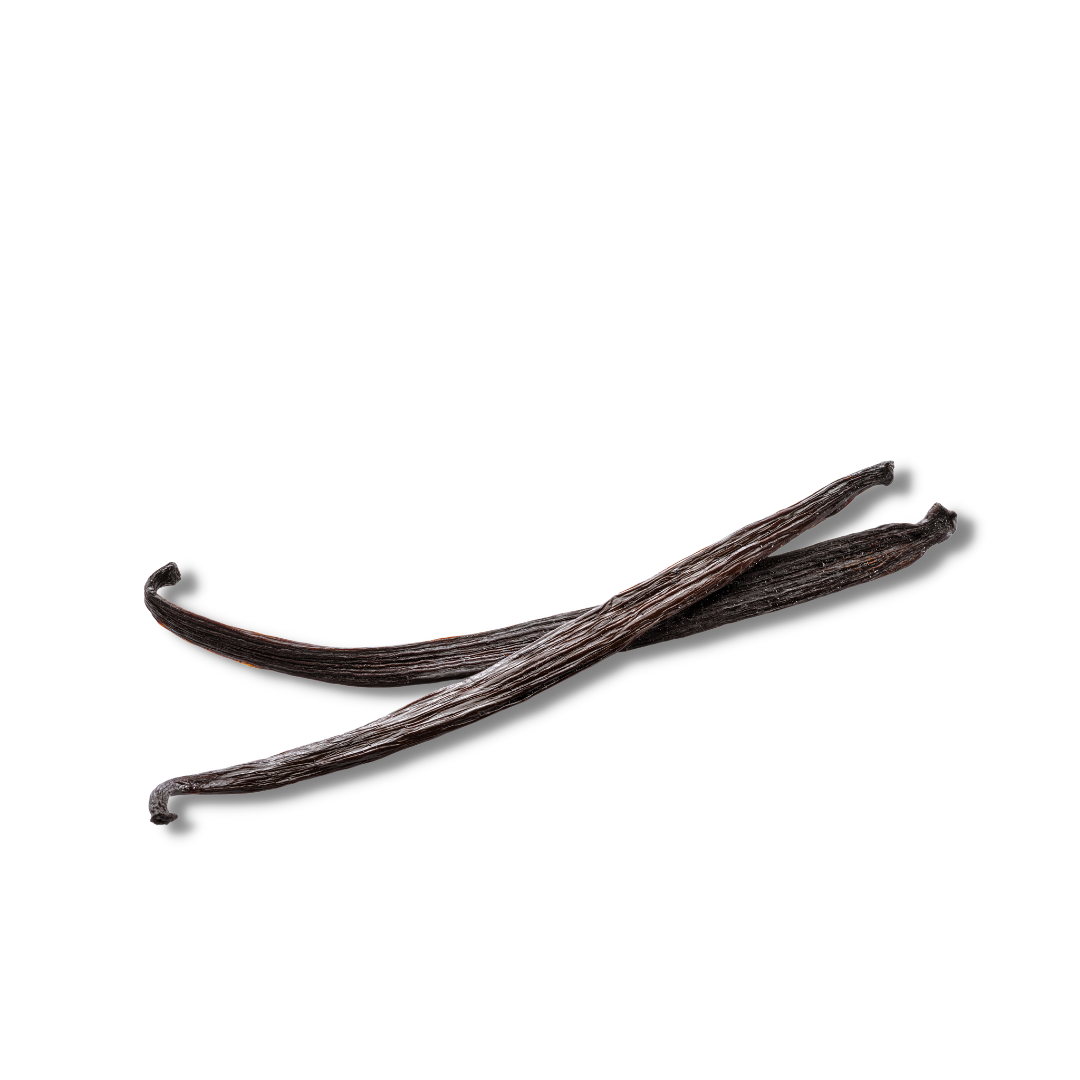 VANILLA
Warm and comforting, sweet and creamy. The vanilla in this fragrance has been slightly smoked for added layer of rich indulgence.